A premium account is a feature that allows players to have access to more content in the game. A premium account is available for real money, and is applied on an existing account for limited time.
Features
A unique paint
50% more experience points and 100% more crystals from battles. When a battle ends, there will be an extra "Bonus" row for the scoreboard, showing the bonus for the premium players (ordinary players and premium players who've hidden their badge will have a long dash mark instead)
Access to PRO battles without buying a pass
Buying product kits with XT items. XT items can be bought individually for 500,000 crystals each
A special Premium background for the player's rank, which is visible on the upper-left corner of the screen, as well as in chat and forum (players can toggle the premium background via a special "Premium Pass" icon in their garage). This background, however, is not visible in the small popup when clicking a user's icon in the user list or chat feed
Subscription options
Players are able to buy premium access to their account via the "Buy" tab on the top game bar- similar to buying crystals, but on a separate page. Purchasing premium access costs real money, which lasts a given period of time.
Payment options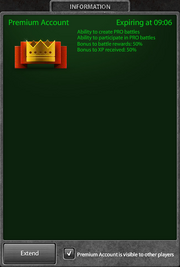 The current payment options are:
| Duration | Price |
| --- | --- |
| 1 month | $10 |
| 3 months | $28 |
The duration of the premium account can be extended via the "Premium Access" icon on the beginning of the garage (for players who already have a premium account), via a special "Extend" button. In addition, buying crystal packs also gives the player a temporary premium access:
| Crystal pack | Price | Premium duration |
| --- | --- | --- |
| 60 000 (+45 000) crystals | $39.99 | 1 week |
| 100 000 (+100 000) crystals | $69.99 | 3 days |
| 143 000 (+215 000) crystals | $99.99 | 7 days |
History
The release of premium accounts and its main features were first announced on October 9, 2015, in episode 63 of the Tanki V-Log. It was stated that the feature would be released in the following weeks, and that all players will be given a 1-day premium access for free.
On October 20, 2015, it was announced that the feature of premium accounts will be released the next day, with further information about the premium access and prices.[1] Unlike the first statement, where it was told that the Premium color paint's protection will be 20%, in the new announcement, it was told that the paint's protection will be 15%. The feature was released on October 21, 2015.
On November 6, 2015, at 02:00 (UTC), the crystal bonus value for premium acounts was changed from 50% to 100%, as part of an experiment. On November 11 that year, the premium bonus from crystal packs purchases was also reduced.[2]
Trivia
In episode 63 of the Tanki V-Log, it was stated that the idea of premium accounts had been around since the very first days of Tanki.
Gallery
See also
Sources and references