We're Getting Mutants in the MCU - The Loop
Play Sound
"Tanki Online is more than just an exciting online Game. It's a community of people who share the same interests. We encourage mutual respect and politeness and strongly discourage offensive behavior and/or violating other Users' rights. The Administrators reserve the right to limit users' communication abilities, lower their ratings, and/or block their Accounts if they violate these Game Rules."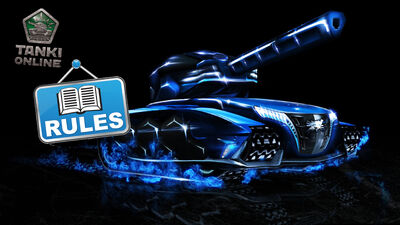 Brief Rules
The following in-game activities are prohibited in the Game, Chats, Forums and any other official places of communication:
use of bots, use of third-party software, exploitation of bugs;
impersonating a member of Administration or one of its assistants;
creating obstructions for other users;
advertising, political propaganda;
violation of laws, including intellectual property laws;
sale, purchase, exchange, transfer of Accounts or other in-game property;
fraud or other dishonest actions.
insults, threats, slander;
obscene language, including in the implied form;
flooding, flaming, spam, printing in capital letters (CAPS LOCK);
swindling passwords or other Account information;
instigating others to violate the Game Rules;
publication of information forbidden by legislation;
publication of links to third-party resources;
any forms of discrimination.
cuss words.

"The Game Rules are an integral part of the End User License Agreement (hereinafter referred to as the ''Agreement'' or EULA) and other documents of the Game and Game services. In turn, the Agreement, the Privacy and Cookies policy, as well as other documents published in the Game and Game services, are an integral part of these Game Rules.
Any terms and notions used in the Game Rules have the same meaning as has been assigned to them in the Agreement.
Any use of the Game and its Online Facilities and/or clicking "Accept" at the registration form means that you are acquainted and agree with these Game Rules, and unconditionally accept all their terms. The Game Rules are obligatory for all Users.
If you disagree with any of the conditions within these Game Rules, you have no right to further use of the Game and its services, and must leave this Site and refrain from using the Game."
To see a complete, comprehensive list of all Tanki Rules, visit the page here .