Firebird


Firebird M0
Information
Type
Turret
Rank Unlocked
Recruit
Price

100

Price

0

Upgrades info
Mk1 Rank
Master Sergeant
Mk1 Price

7,100

Mk2 Rank
Major
Mk2 Price

94,600

Mk3 Rank
Marshal
Mk3 Price

455,900

Mk4 Rank
N/A
Mk4 Price
???
Mk5 Rank
N/A
Mk5 Price
???
Mk6 Rank
N/A
Mk6 Price
???
Mk7 Rank
N/A
Mk7 Price
???
Garage description
A good weapon for short-range battles. Fires a stream of napalm that burns tanks within its damage radius. Burning opponents continue to take damage even after the Firebirds attack stops. Can thaw frozen tanks and is a great choice for fast and medium hulls.
Firebird is a turret in Tanki Online. It is unlocked at the rank of

Recruit. It is essentially a flamethrower; the in-game description says that it shoots "a steady stream of napalm". (Napalm is a flammable substance which can stick to things like a jelly.)
Characteristics
Firebird has a very high rotation speed- only second to Freeze- which allows it to quickly aim at nearby targets. It is a close-range weapon, and therefore will only affect nearby enemies. Its magazine shoots napalm that can pass through enemies, and therefore affect a group of enemies, and causes a very high damage. However, Firebird's flames have no impact force.
Firebird also has an "afterburn" effect, which means that any damaged enemy will be set on fire, and will still be damaged after the Firebird stops shooting, or even if the Firebird tanker was completely destroyed. The burning effect slowly wears off over time, but it can still destroy tanks, so even if the Firebird tanker is destroyed first they can still earn experience after death. Its afterburn effect can also be alleviated using a Repair Kit or by being fired upon by a friendly Isida or Freeze.
When fired upon teammates frozen by an enemy Freeze, it can thaw them.
Pros and Cons:

Pros:
Very high damage
Its high rotation speed allows it to aim quickly
Somewhat cheap at M0 and M1
Earliest available M1 turret
Very good to kill people near the gold box zone.
Afterburn damage can help destroy tanks even after the
controlling tank has been destroyed
Thaws enemies damaged by Freeze
WIth the recent balance updates, firebird afterburn does 300 damage every second.

Cons:
Most expensive M3 turret
Below-average magazine capacity and reloading time
Someone can easily kill you when recharging
Can lose it's afterburn effect when enemy is cooled down by Freeze.
Uses
It is efficient at killing a group of enemies in a short time.
The fire and smoke effects of the turret can be used to distract to enemies.
It can also play an important role in defending control points as well as flags, due to its ability to destroy nearby enemies.
When combined with light hulls, Firebird can destroy enemies while effectively avoiding their shots; when used with a medium or a heavy hull, it can be used for obliterating a large number of enemies before being taken down, though it's recommended to use long-range weapons with heavier hulls.
Upgrades overview
Firebird M1- has a drastic damage increase- roughtly a 25% boost. One of the major differences is that, unlike M0, it can kill an M0 titan without reloading. The fire is given an fluorescent orange color.
Firebird M2- the upgrade has a significant damage increase of 40%, as well as a noticeable rotational speed boost, and a significantly longer burning effect duration. The flame is given an intense yellow shade with orange bits near the end of the flame.
Firebird M3- just like when upgrading the M2, there is a very significant increase in damage, rotation speed and burning time.
Table of Characteristics
Firebird

М0

М1|

М2

М3

М3+

Available From

Recruit

Sergeant

Major

Marshal

Marshal

Price of Modification

100

7 100

94 600

232 150

455 900

Alterations

Name of alteration
Price
Unlock rank
Boosted effects
Reduced effects
High-pressure pump
20 000
First Sergeant
Minimum damage range +10%

Maximum damage range +100%

Cone angle -75%
Compact fuel tanks
70 000
First Lieutenant
Maximum temperature limit +100%

Heating rate +100%

Energy consumption +50%
Incendiary mix
100 000
Major General
Damage per tick +50%

Energy consumption -50%

Afterburn effect disabled

Upgradable Parameters

Damage (HP/sec)

200

302.94

479.41

582.35

700

Damage per tick
50
75.735
119.8252
145.5875
175
Rotation speed (deg/sec)

90

108.53

140.29

158.82

180

Rotation acceleration (deg/sec²)

90

108.53

140.29

158.82

180

Range of max damage (m)

5

6.03

7.79

8.82

10

Range of min damage (m)

15

16.03

17.79

18.82

20

Burning time (sec)

1

2.9

6

7.9

10

Temperature limit

0.1

0.29

0.6

0.79

1

Heating rate (temp/sec)

0.2

0.26

0.37

0.43

0.5

Non-upgradable Parameters

Ticks per second
4
4
4
4
4
Reload time (sec)

6

6

6

6

6

Amount of energy

1 000

1 000

1 000

1 000

1 000

Energy consumption (eng/sec)

200

200

200

200

200

Weak damage (%)

10

10

10

10

10

Cone angle (deg)

25

25

25

25

25
Firebird Micro-Upgrades
Trivia
Firebird's burning effect can kill enemies even after the shooter dies. However, Freeze can speed up the decay of the effect.
Firebird shines in smaller maps, where long-range weapons are less effective.
Before one of the visual updates, the flame color of the M2 and M3 upgrades used to be purple and blue, respectively.
A loading glitch of the flame's image can make them appear as blank squares.
Firebird didn't always hold the ability to cause damage in after-burn. Prior to Update #114 - the Global Re-balance, Firebird's flame only damaged tanks and lowered their health, but didn't cause the burn effect.
In late-2009, a very intriguing bug was noticed when a player using Firebird left a battle while still firing. The flame still appeared on the map, and in some rare cases, it didn't disappear until the battle was terminated by the server.
On September 10, 2015, Firebird XT was added into the game - which could be obtained by completing a specific Daily Mission or by purchasing it in the Garage for 500,000 crystals whilst having a Premium Account. This version of Firebird differed from its original counterpart only by looks, and not by any extra or higher statistics.
The Demonic Firebird Skin was added into the game on 31st of October,
2018 as part of a special star week in which you had to obtain 900 stars to earn the skin.
Gallery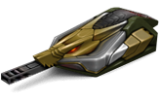 Videos