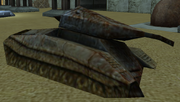 Destroyed tanks are landscape objects that appear in a variety of maps. These are rusty tanks, half-sunken in the ground, not owned by any players and are only used for decoration purposes. All destroyed tanks are a combination of Firebird and Titan (both at M0).
Appearances
Destroyed tanks are featured in the following maps:
Cross
Desert
Esplanade
Noise
Opposition
Rio
Scope
Station
Year 2042
Yorkshire
Zone
In addition, one is used in a custom 404 error message in Tanki Online's website, when searching for a content that doesn't exist.
Trivia
The destroyed tanks use the pre-rebalance design, which is applied on both their turret and hull. The rusty pattern is also the one used previously to indicate destroyed tanks.
Gallery