We're Getting Mutants in the MCU - The Loop
Play Sound
Clans are organized groups of tankers, who've joined together to battle against other clans, do parkour, or perform other activities (such as "catch the gold" games). Each clan has its own set of goals, and will usually have a set of rules for joining.
Mechanisms
Being a member of a clan unlocks certain features that are not otherwise available in the game:
Clan members can create "clan-specific battles". In these battles, when a clan member joins the Red or Blue team, that team will be locked in a way that only the other clan members will be able to join it. When a member of another clan joins the other team, that team will only be accessible for that second clan.
Each clan has its own, private chat.
Clan members can join any PRO Battle without the need of a PRO Battle pass (but creating a PRO battle would still require having a pass)
Clan creation
A clan can be created by a player who's purchased a Clan license, available for $USD 35.99 via the "Clan" tab, which allows creating a single clan per license. At this point, the founder can start enlisting tankers to join his clan.
Structure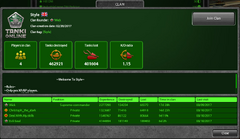 After creating a clan, its founder is given a "Supreme-commander" status, and can invite other players to the clan. An invited player is granted one of the following statuses: Supreme-commander, Commander, Officer, Veteran, or Sergeant.
Each clan has a unique tag, which is displayed next to the names of its members. The tag, 2-5 characters in length, is picked when creating the clan, and can be different from the clan's name. The tag is always enclosed by square brackets (not part of the actual tag). The username of a clan member will be displayed in the following way: [tag] username.
The menu revealed when clicking a user's name, in the case of a user who is a clan member, will have an additional "Clan profile menu" button. Clicking it would reveal a window with information about the clan, such as founder, creation date, number of kills and deaths of the clan as a whole and of each member, and so on. The clan window may also display a "Join Clan" button, unless disabled by its leader, which allows others to send a request to join the clan. The clan may then accept or deny the request, but a clan can always invite a player to join.
History
The current mechanism for clans was launched on February 3, 2017.[1]
Before that, clans were exclusively handled in the forum. Joining one required contacting the clan's leader or sending a request in the clan's forum page.
Sources and References